Travelling to Japan - Part 1
The Flight!
Our flights were with Air China, found via SkySkanner and sold by LastMinute.com for £450pp. The flights were 14.5 hours each way we swapped in Beijing, China for 1.5 hours each way.
We had an initial scare because in all my glory, only put our first and last names when buying the tickets! It was resolved early on thankfully, Air China don't (at time of posting!) require middle names for UK Citizens.
Aside from that fright, it was a relatively painless process to get our tickets. Confirmation came quickly, the helpline was free and didn't leave you waiting for ages!
---
In-Flight entertainment
So the flights were pretty comfy. We'd looked at some reviews on Air China longhaul flights before we'd bought our tickets and thought it seemed okay.. After it got within a few weeks of our flight, we looked again and boy oh boy. They were bleak.
Thankfully we got the good end of the stick! Our flights were comfortable, it was never too cold or too warm & we got blankets that wouldn't smother you but still kept some heat in.
There was a good choice of movies for passengers too, on the way back from Japan we even had Star Wars ep. VII! There were also loaaads of Chinese martial arts films, so many starring Jackie Chan!
---
Food
We went into this thinking that the food was going to absolutely revolting, so we packed enough food to survive a nuclear winter. However the food was pretty good. For airplane food anyway! The options consisted of [insert meat] and rice. Seafood and rice, steak and rice, chicken and rice.. Everything and rice!
You also got a little bread bun, some butter, some kind of salad/fruit piece and then a desert. In the immortal words of my girlfriend:
This is the best cheesecake I've ever had, oh my god give me yours please!
---
Luggage
Pretty standard for a long haul flight, we got 2 suitcases in the hold each and 2 carry on cases. We had quite a high weight allowance on our suitcases and carry-ons too.
However my suitcase got battered like nothing I've ever seen on the return flight.. So many of my goodies were destroyed, along with some of the glasses I brought back.
The most annoying thing about this is that the attendant asked if I was taking goodies back in my case and if they were delicate/breakable, and put a "handle with care" label on my case..
My case came back warped, battered and no longer holding it's rectangular shape! Never mind all the things I won in crane machines getting destroyed.
I'm currently awaiting to hear back from Air China's baggage support (it's been like 3 weeks on Monday coming..), I've called half a dozen times and keep getting put off. I'll update when they finally sort themselves out!
---
Overall
Overall a pretty damn good experience. We didn't get faffed about, the food was pretty good and we could sleep comfortably! The only issue was the luggage damage, and providing that gets sorted I'm happy to say that it was a good experience.
Enjoy a picture of me and Sarah landing at Japan after the flight: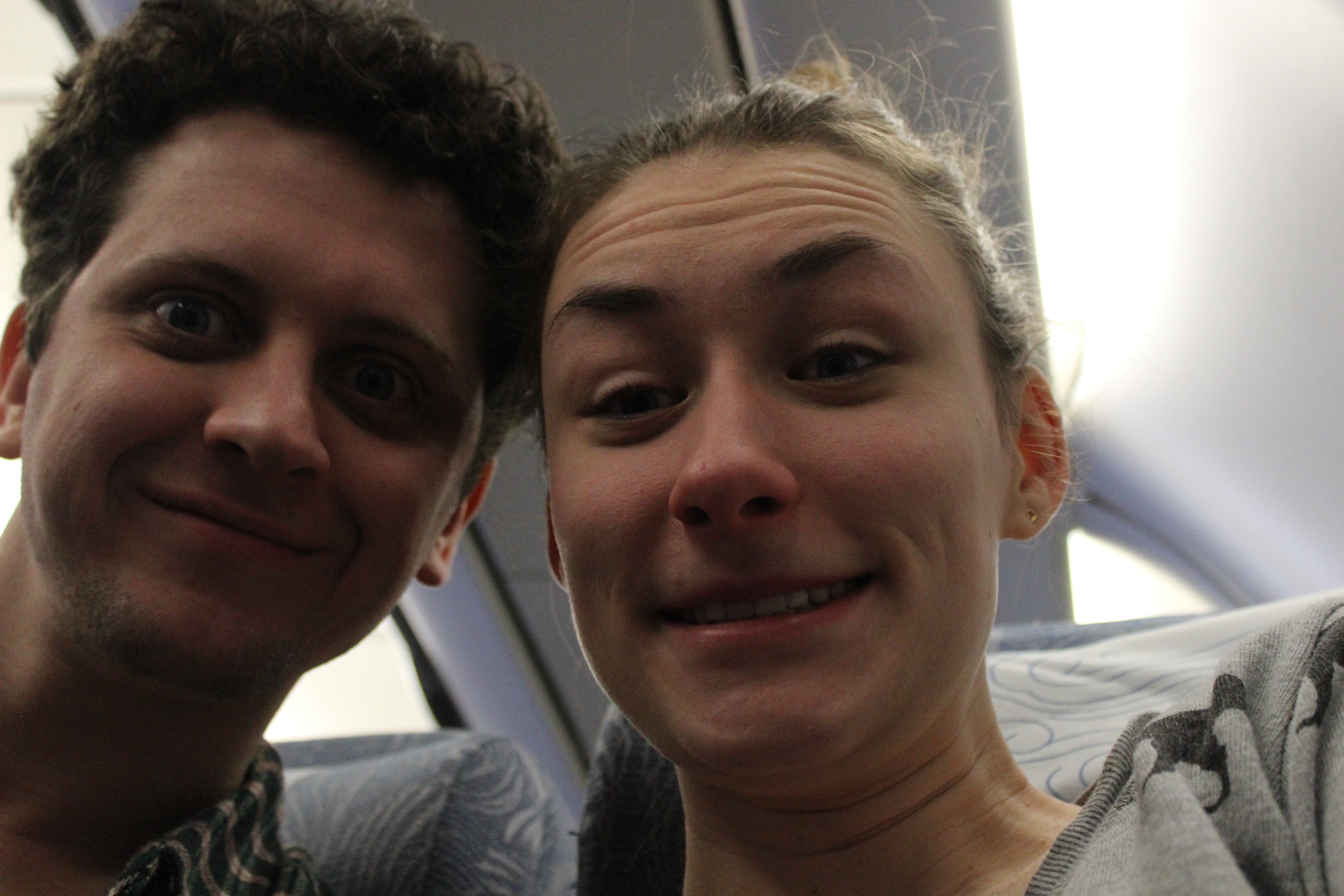 I'll be back soon with some more tech. posts, stay tuned!