Travelling to Japan - Part 3
Kyoto
This post is going to be about our trip to Kyoto and all the stuff we did while there!!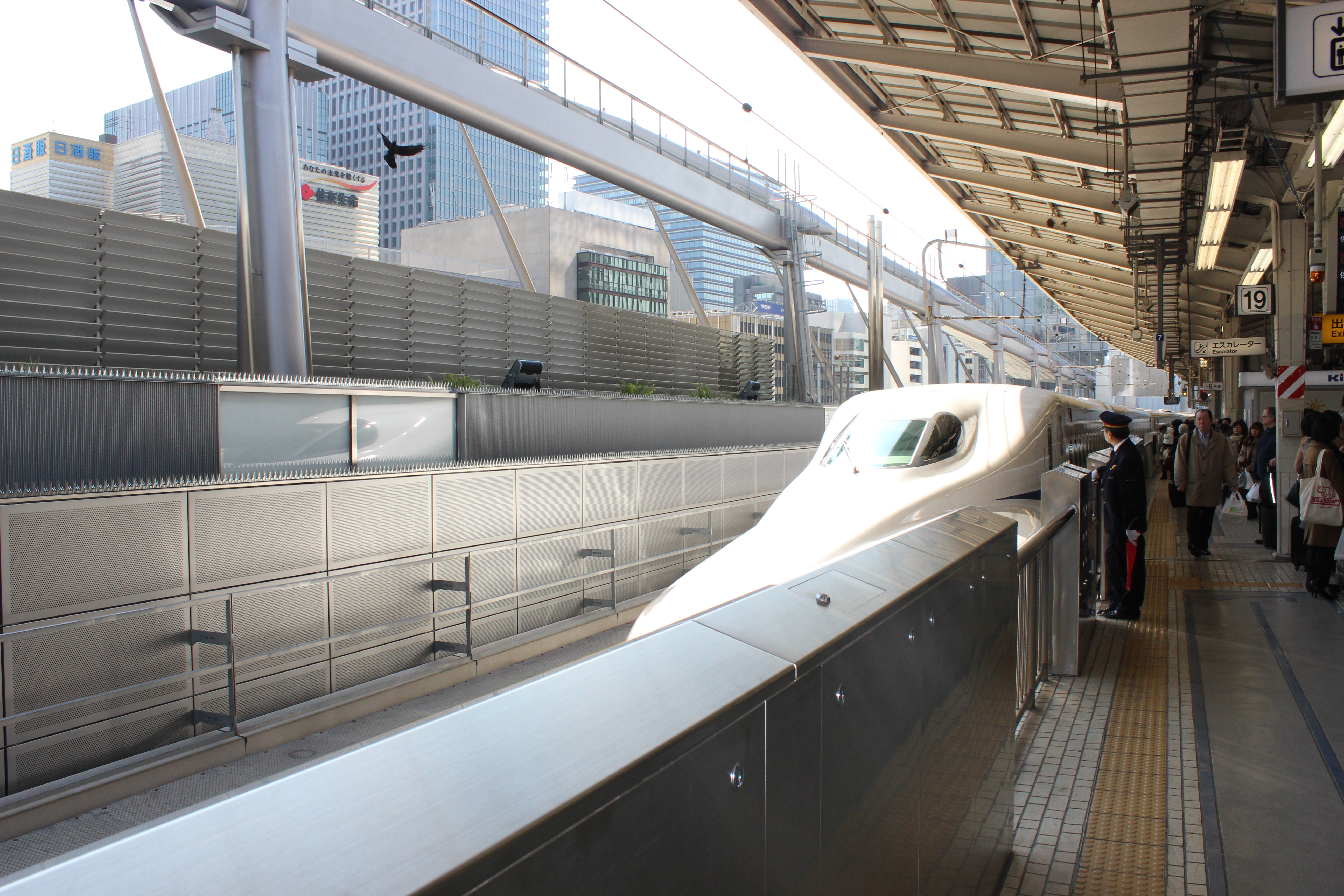 ---
Accommodation
We stayed at the Backpackers Hostel: K's House Kyoto, we spent 4 nights here. It was a very different atmosphere when compared to the Emblem Hostel (from our first stay in Tokyo), this was very much a backpackers hostel with the communal kitchen absolutely flooded with people at all times of the day. The staff were friendly and helpful, although not all of them were fluent in English (who am I to complain!?).
Our Room
We stayed in a Standard Double Private Ensuite (again!), we actually made two bookings because they didn't have any of this room type available for our last night.. But when we were shown to our new room it was identical!! We were meant to spend our last night in a Basic Double Private Ensuite (which is a Japanese style room instead of Western), but the wonderful receptionist saw that we had made two bookings and sorted us out with the new room for free!
Facilities
Just like the Emblem there was a computer room, kitchen and bar. The bar was very different from the Emblem mainly because it was actually like a bar! There was lots of seating and a computer at the bar, buying anything at the bar got you some free time on the computer!
The bar served a variety of food ranging from Japanese food such as yakisoba to more western dishes like pizzas. The drinks at the bar were fantastic, not only did they have an extensive list of cocktails but they had a large variety of local beers!
Local and General Information
I'm sorry that I didn't take many photos of the actual hostel, but they had loads of flyers for stuff to do. They also had their own competitions and the like in the Hostel which would bag you big money off the bar and rooms, the theme while I was there was: Kyoto in the Spring. There were a lot of nice picture entries!
There wasn't too much in terms of going to other parts of Japan, but there was lots of information about going to places within an hour or so (on a normal train) of Kyoto. So there was lots about Nara and Osaka and stuff to do while there.
Travel
The hostel is situated a ten minute walk from the JR Station where you can get trains and bullet trains, we almost got lost on the way from the station to the hostel.. But we survived!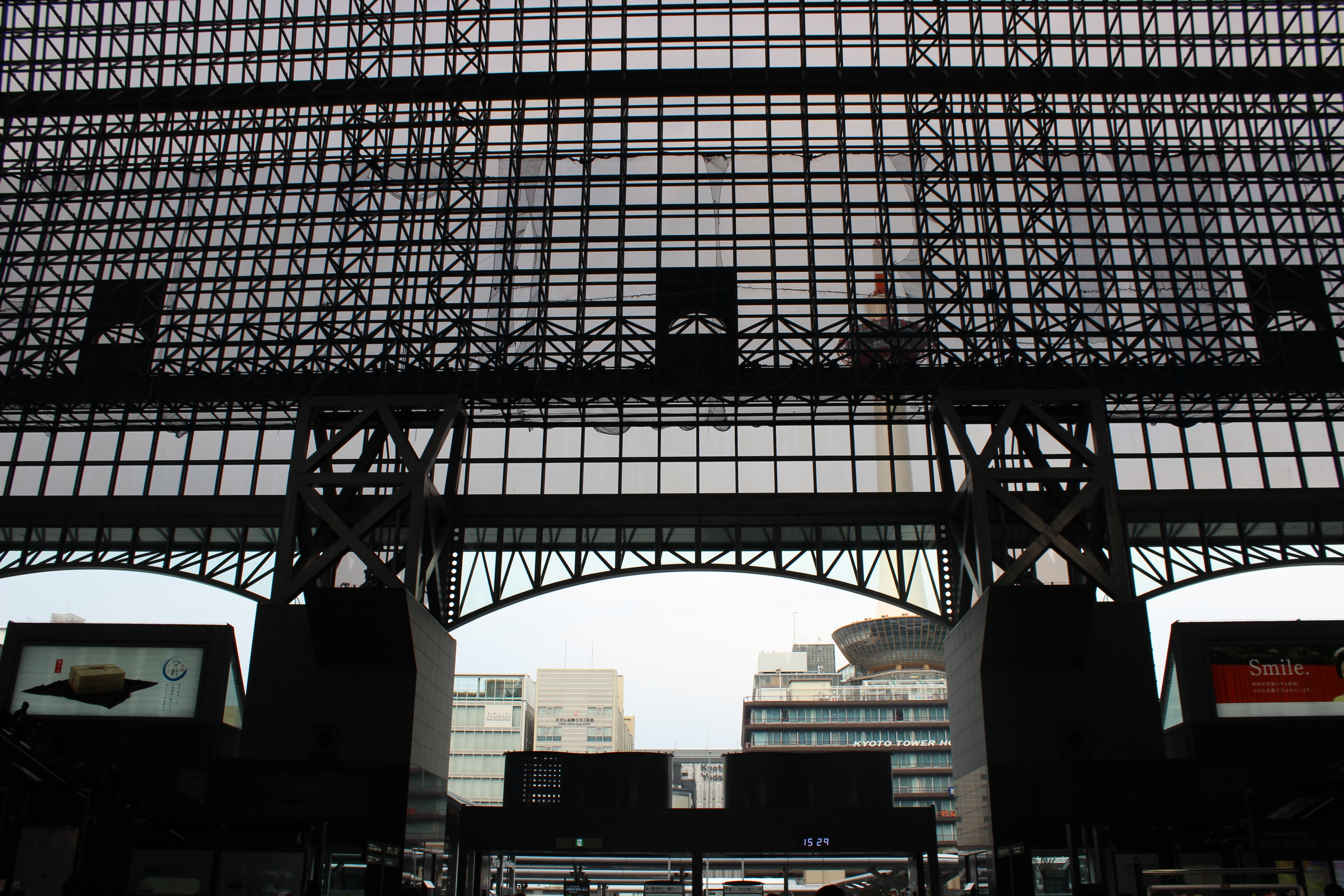 Aside from that there were lots of buses, we never used them though. #JRPass
---
Bullet trains - Shinkansen
So we had a 7 day JR Pass (£175 each!) that we had for when we went to Osaka, because pretty much all of the train lines over yonder are JR. Unlike Tokyo which has a million different subway lines that were usually much faster to get around (bar the Yamanote line, that line was such a saving grace)!
First thing I have to say is: Sarah loves trains. She got super excited while we were waiting for the train and when she actually got on she was just so content with life.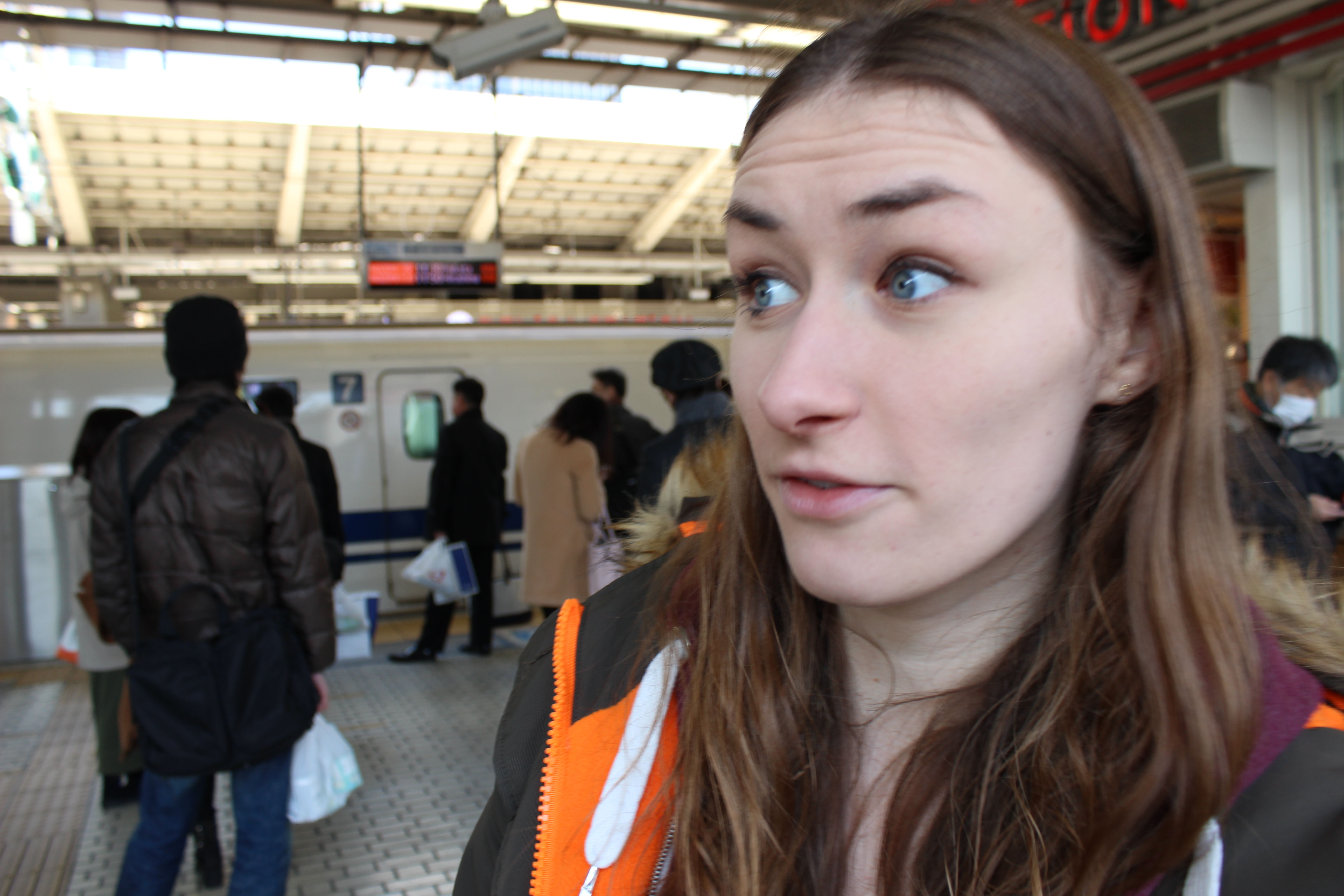 Of course we had to get train lunches, we've heard just how good they are and got lots and lots: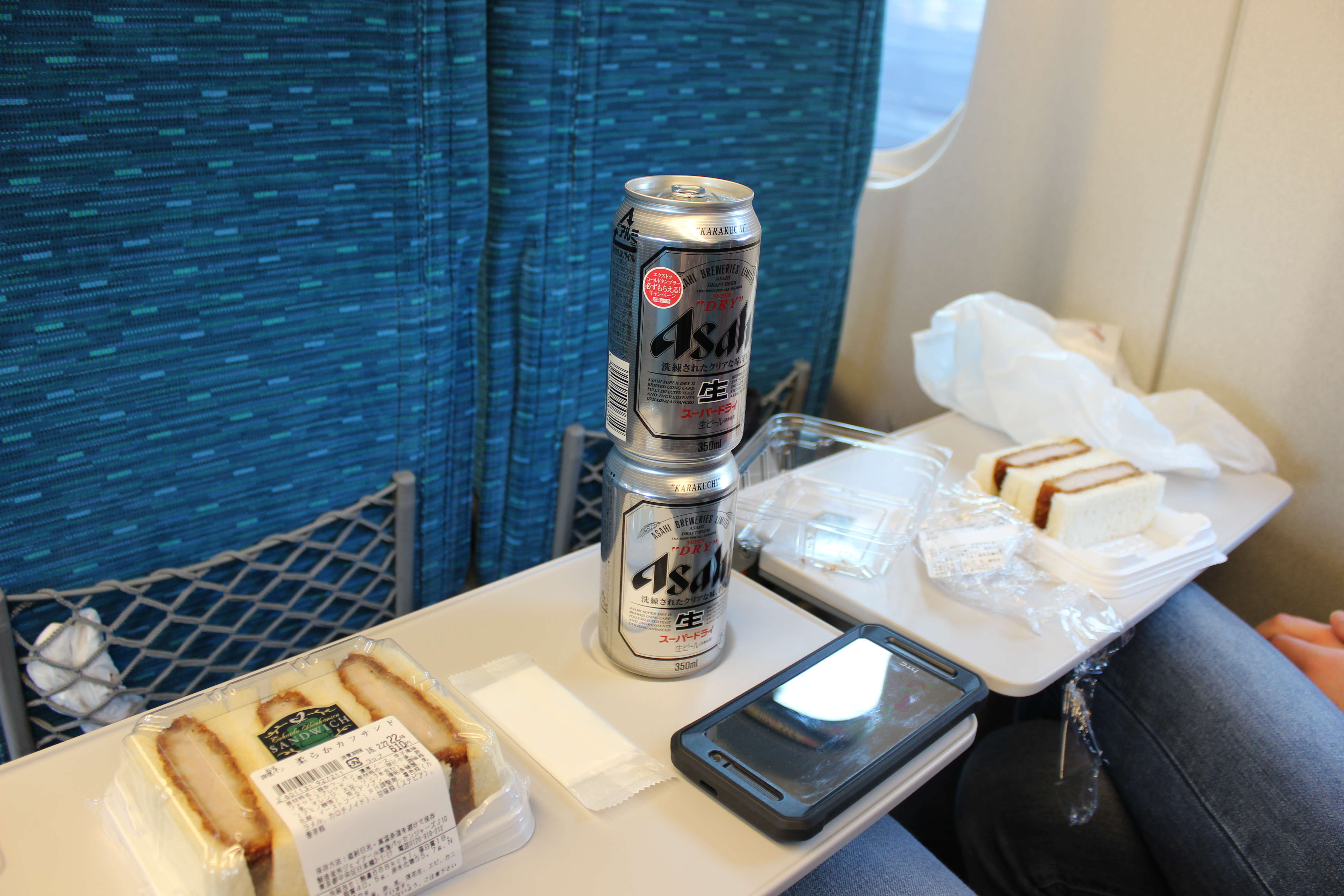 We did it good right? Pork cutlet sandwiches are the best thing ever. Sarah made me buy lunch, so I decided that two beers was acceptable for our 3 hour journey.. Time sure flew!
---
What did we do in Kyoto!?
We did lots and lots and lots while we were staying in Kyoto, including eating as much food as we could!
Day 1
So we arrived at Kyoto around 3pm, we got to the Hostel dropped our bags and were back to the train station for about 4pm. We were super duper hyped to go to the monkey park in Arashiyama, so we hopped on a train and were off! Unfortunately I was very sleepy, and we ended up going too far..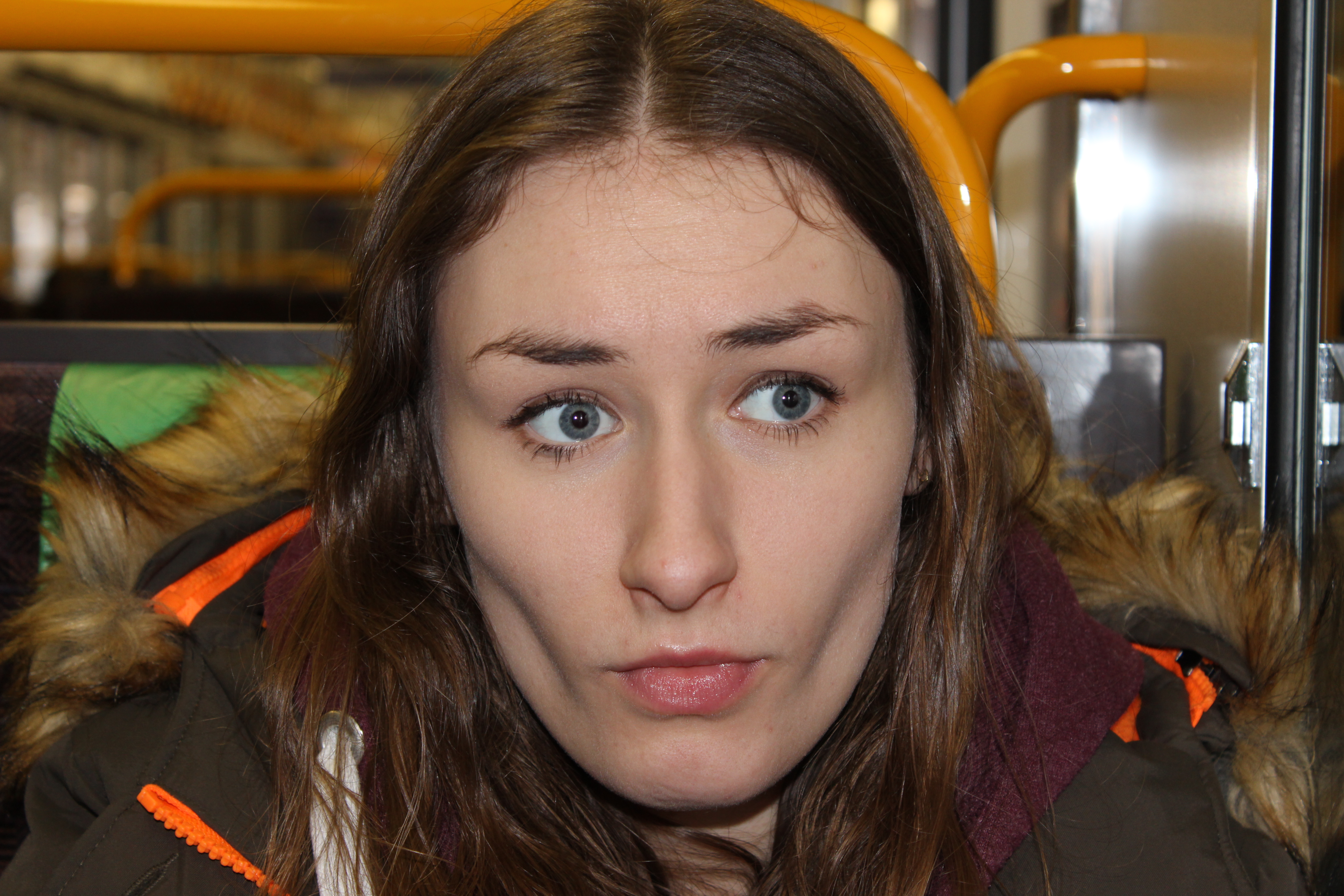 By the time we had gotten to the right station the weather had taken a turn for the worse and we decided to go to a shopping centre we saw while on the train (only a stop or two on the JR San-In line).
We had a look around all the shops and found an arcade! We all know how much I love arcades.. We also found what is quite possibly the best crane machine we saw all holiday: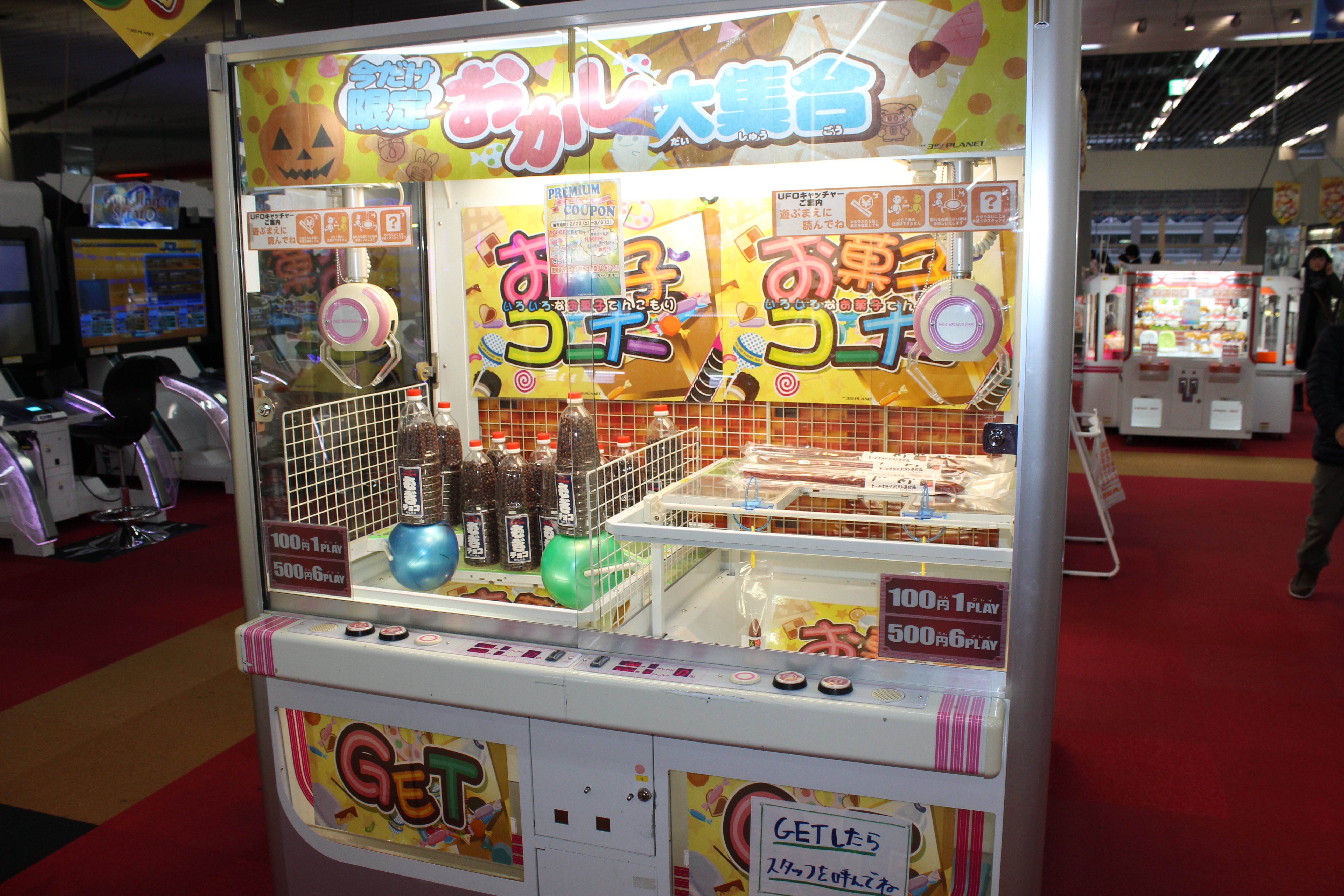 So you could actually win bottles of what looked like chocolate minstrels on the left, and a huge chorizo on the right.. Sarah wouldn't let me get them! After winning a few things and playing on Luigi's Mansion with Sarah, we decided to go get some food. We found a place that had the most inviting guy ever on the door! Turned out that he was also the chef, and the literal nicest guy ever! He was so happy and talkative, the fact that he couldn't speak English barely made a difference to his enthusiasm.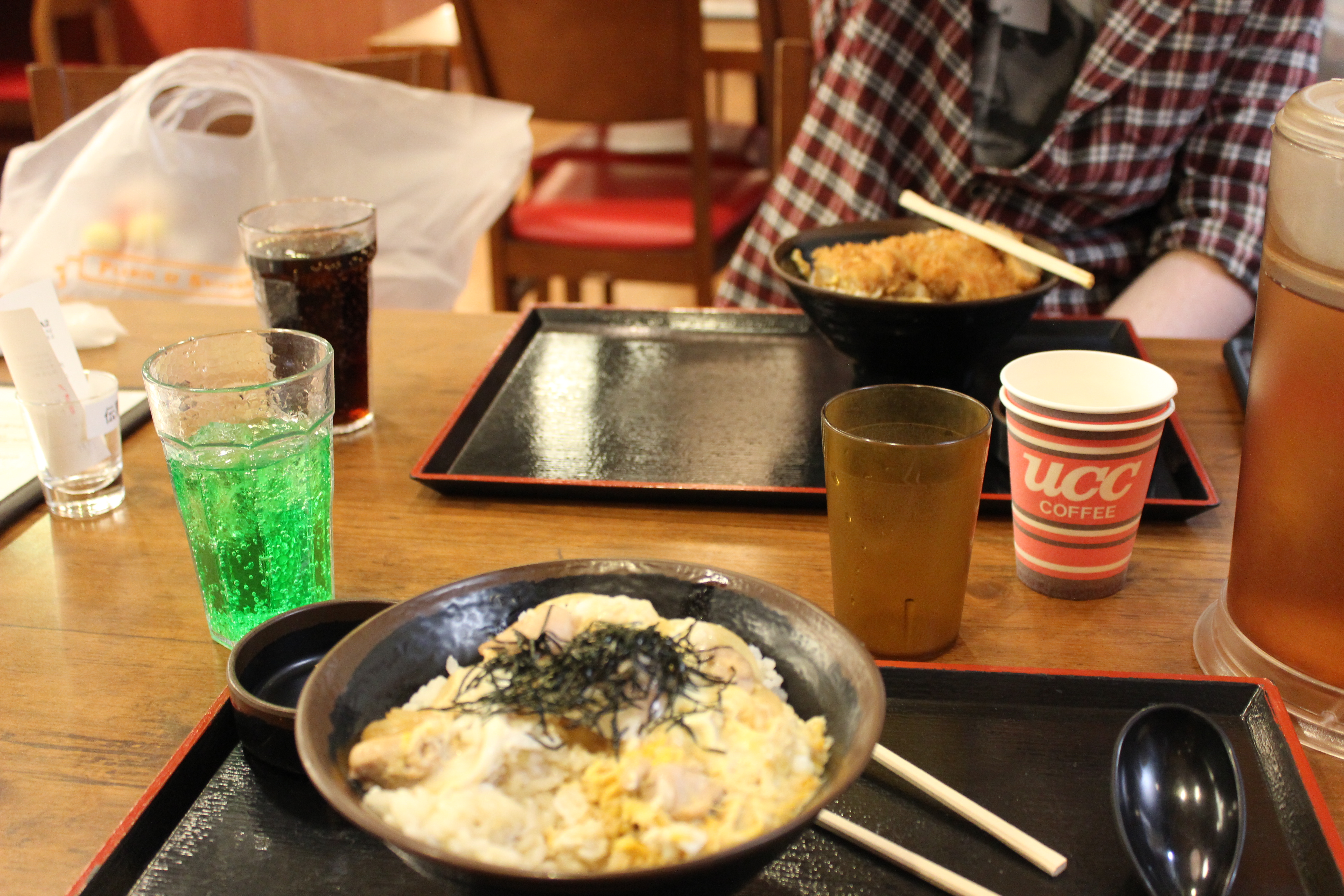 After food we were absolutely stuffed and rolled over to the train station again (like a whole 15 meters!). We got back to the hostel, moved into our room and then made our way to the bar.
We drank a lot, laughed a lot and even enjoyed the guy on stage at the far end of the bar who couldn't sing to save his life!!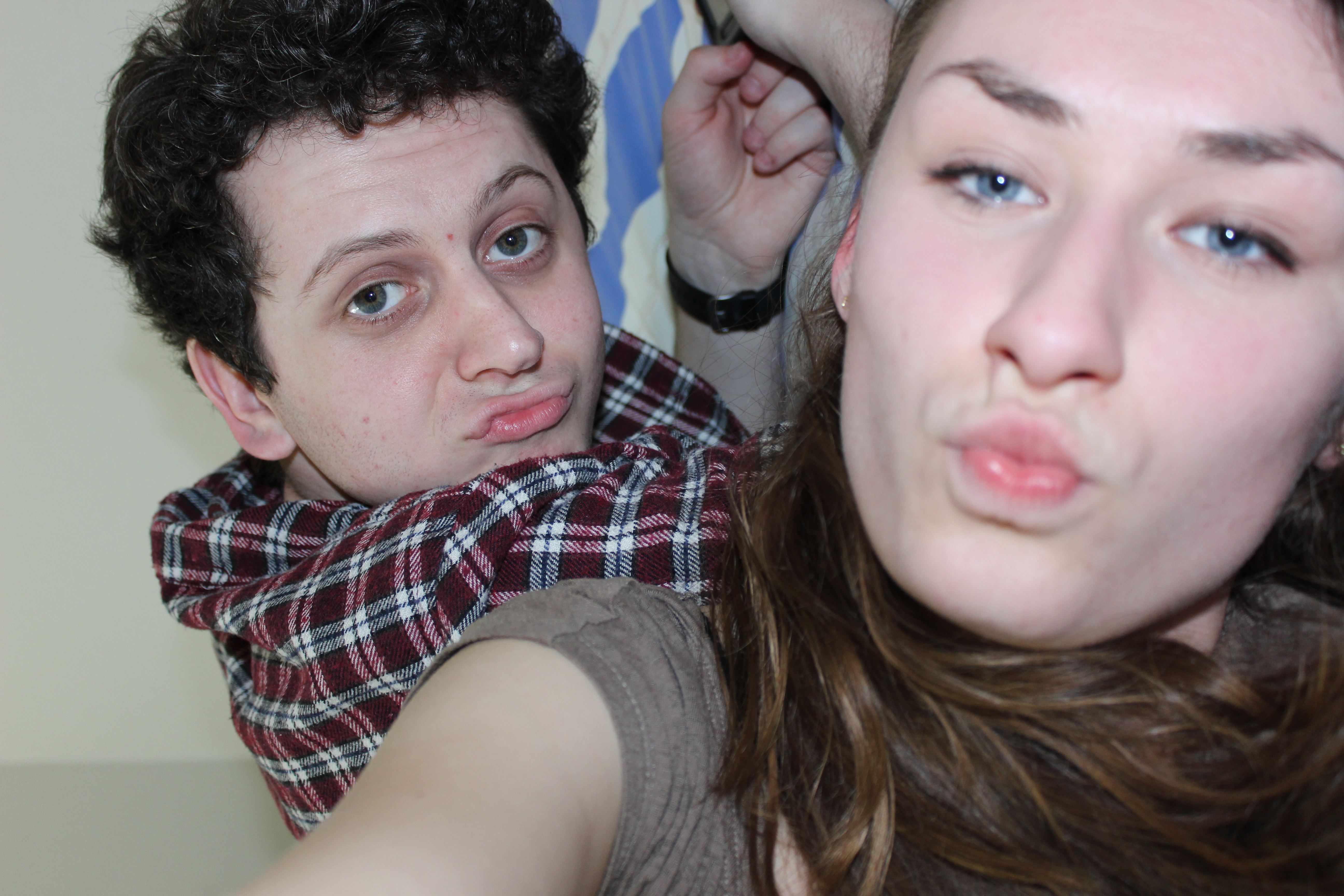 ---
Day 2
We went to Osaka! We did all the fun tourist things while there.
We started the day going to the Umeda Sky Building AKA The Floating Garden! A ten minute walk from the Osaka JR Station and then you've got to go high enough to get uncomfortable..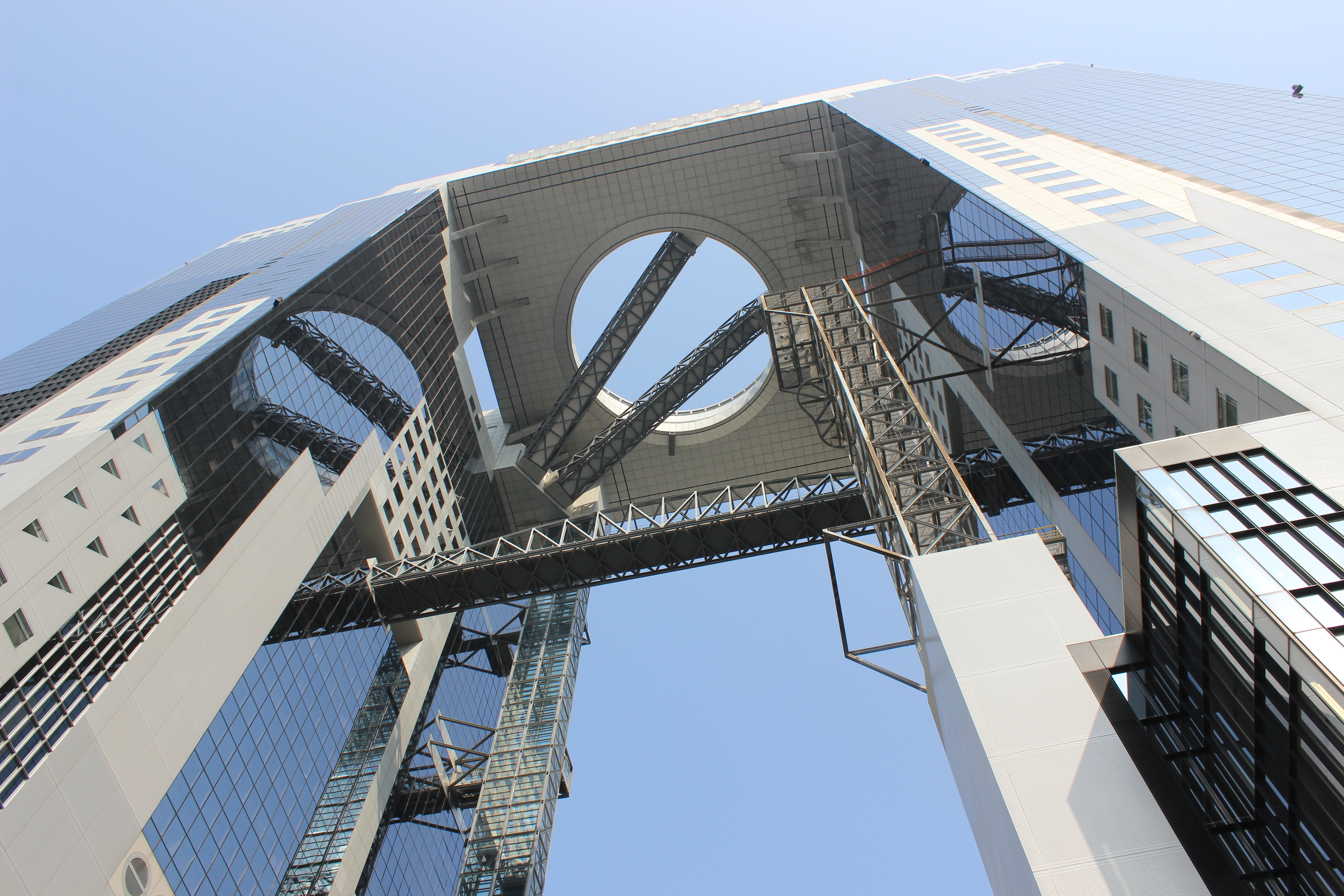 We went all the way to top and had a good look around all of Osaka, not to mention get our undying love eternalised via lovelock.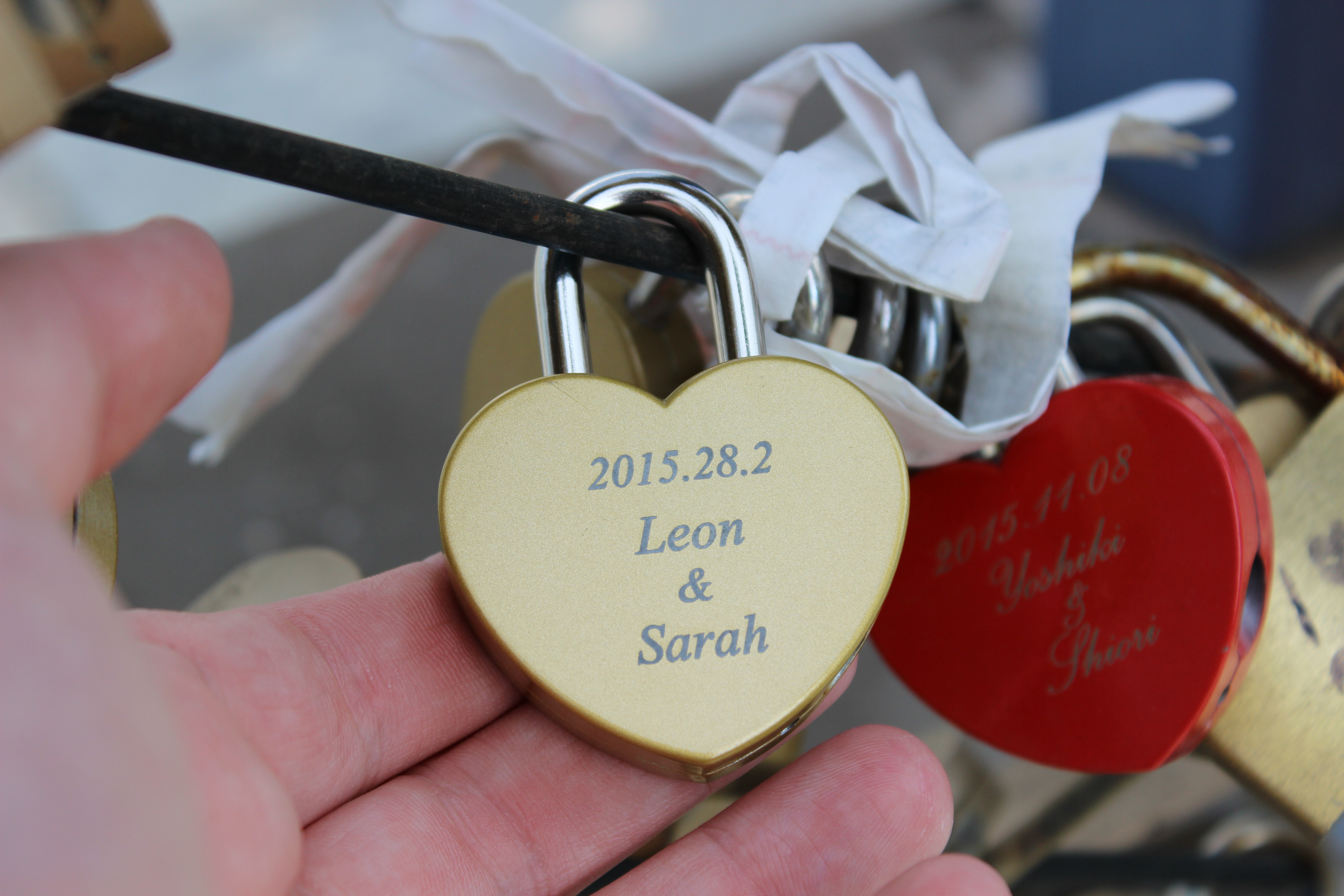 We also took about a million photos of each other when going up and down the escalators to the actual garden (the funny beams you see going across the big empty space at the top of the building).
When we finally descended the building we went to the Sega Joypolis building! Think of a huuuuuge shopping centre, with 2 floors of arcade goodness (and a floor of photo booths!!).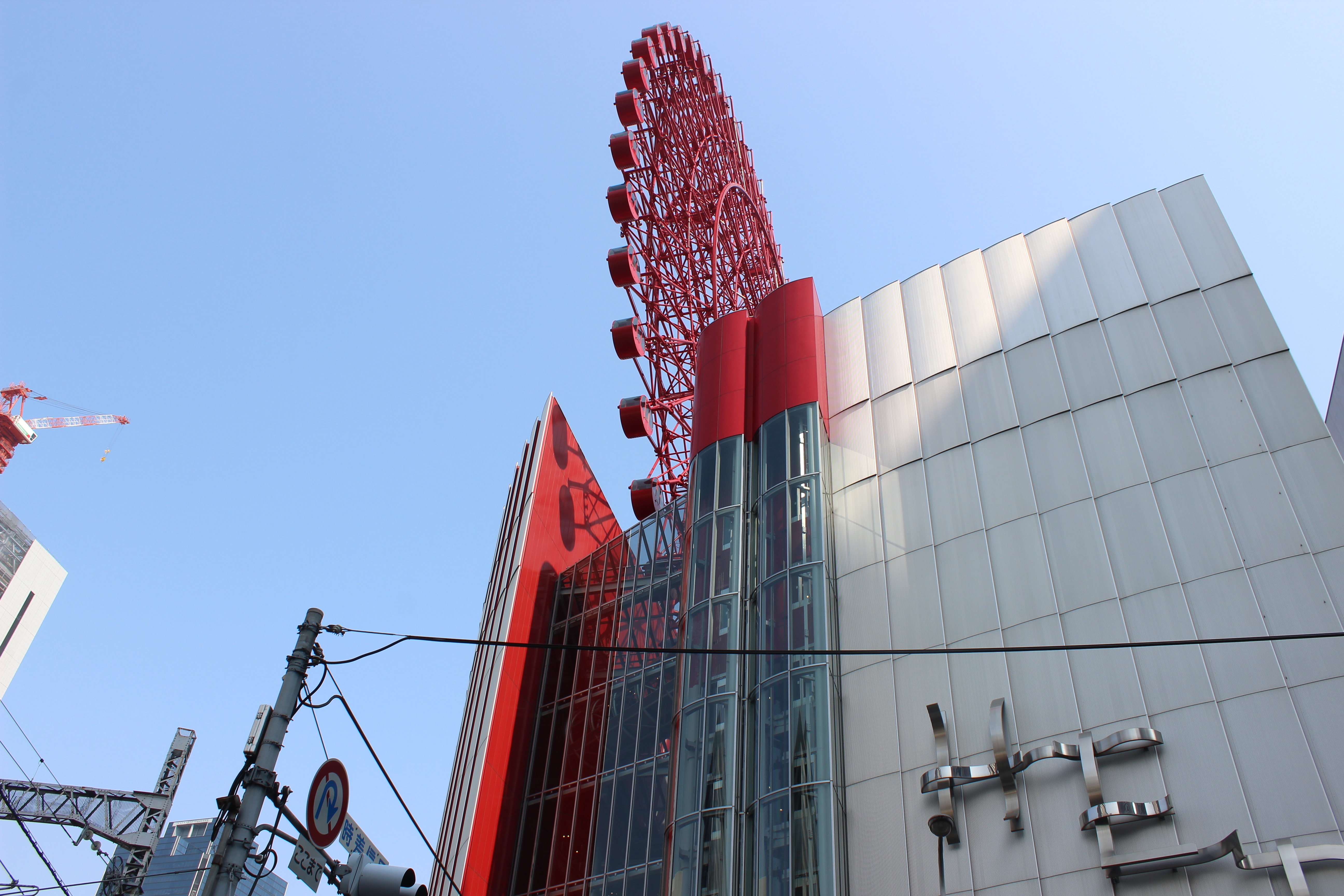 I won some more things here, including my very own Super Saiyan God Goku figurine! Of course I won Sarah a variety of sweeties so that she was happy too. After this we walked through Nakanoshima Park to get to Osaka Castle, the only thing is.. We ran into a lot of people dressed like minions!!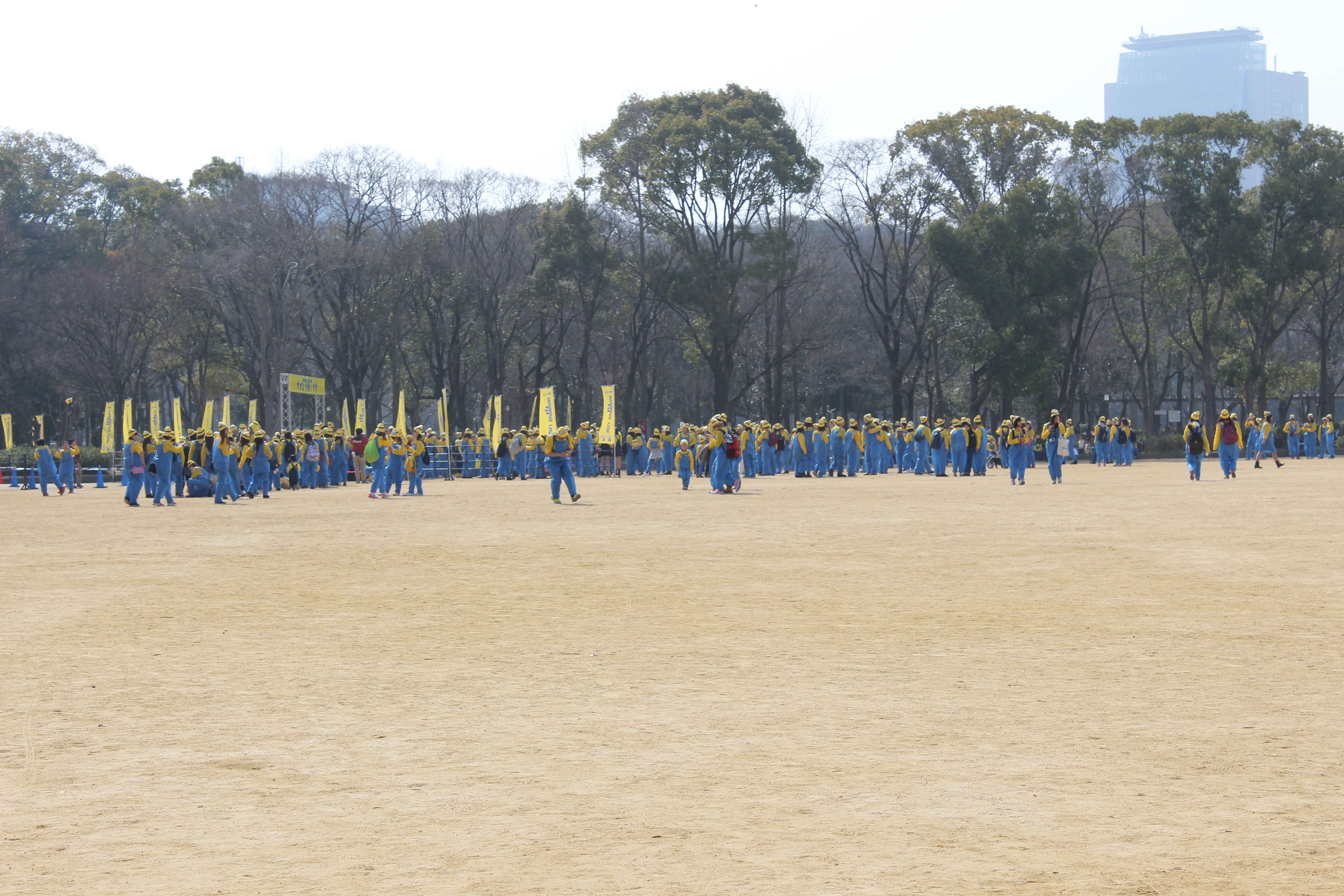 It was a Minion fun-run! Unfortunately we were not prepared for this and didn't have the money on us to splash the ¥5,000 to get a ticket to take part.. Everyone who had a ticket got a minion suit!! Sarah almost died.
Once we'd managed to pull ourselves away from the gathering of minions, we continued on our way to get to Osaka castle. It felt like a very long journey with so many great smelling stalls outside the castle: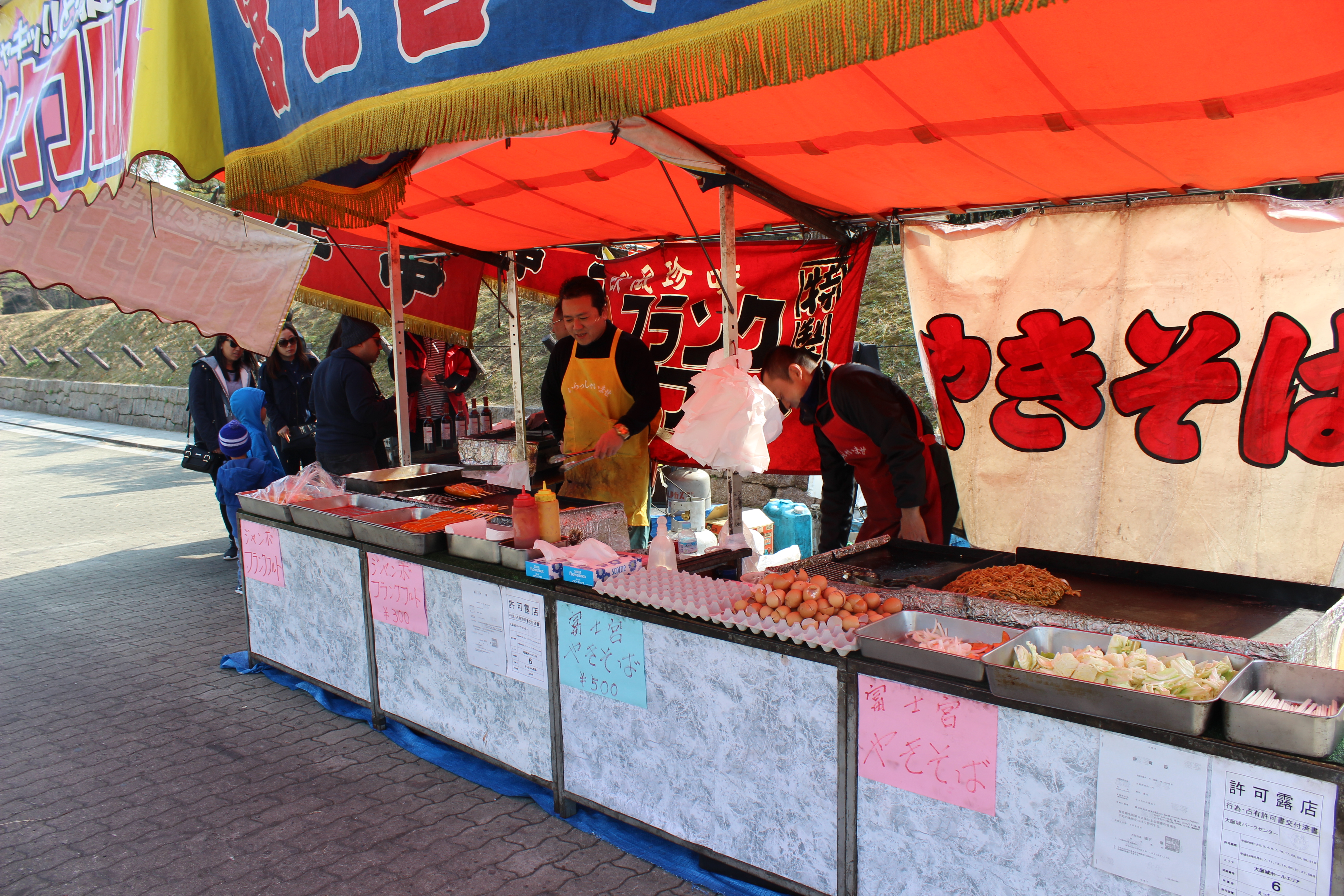 Being the resposnible people we are, we didn't buy any food.. Just a slushy from a little down the road. Now we actually get into the castle grounds!
There were lots of little gardens when we were making our way to main castle.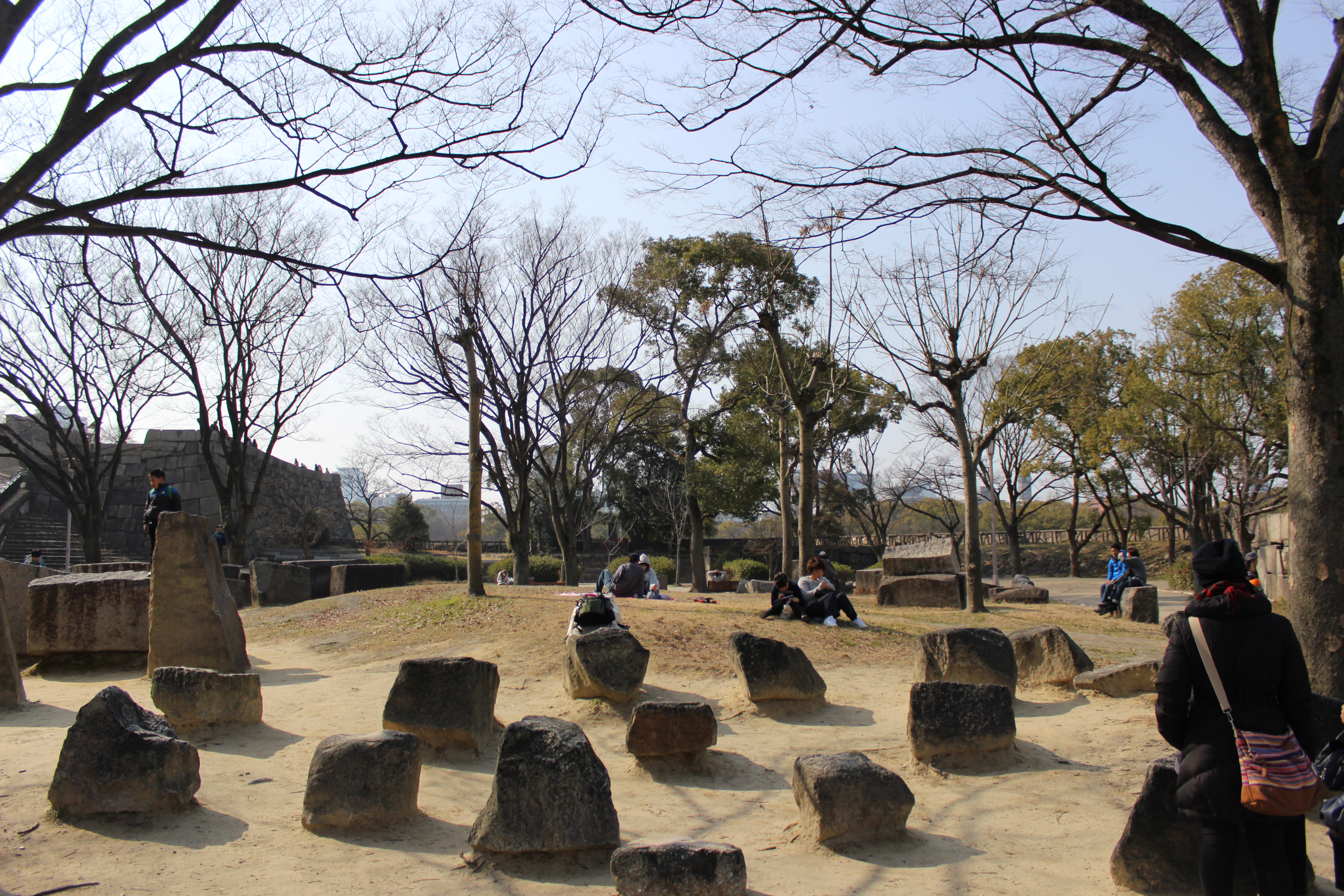 We then made our way up to the actual castle grounds, where there was more food stalls and a couple of mascots wandering round and taking pictures with people. Me and Sarah had dango!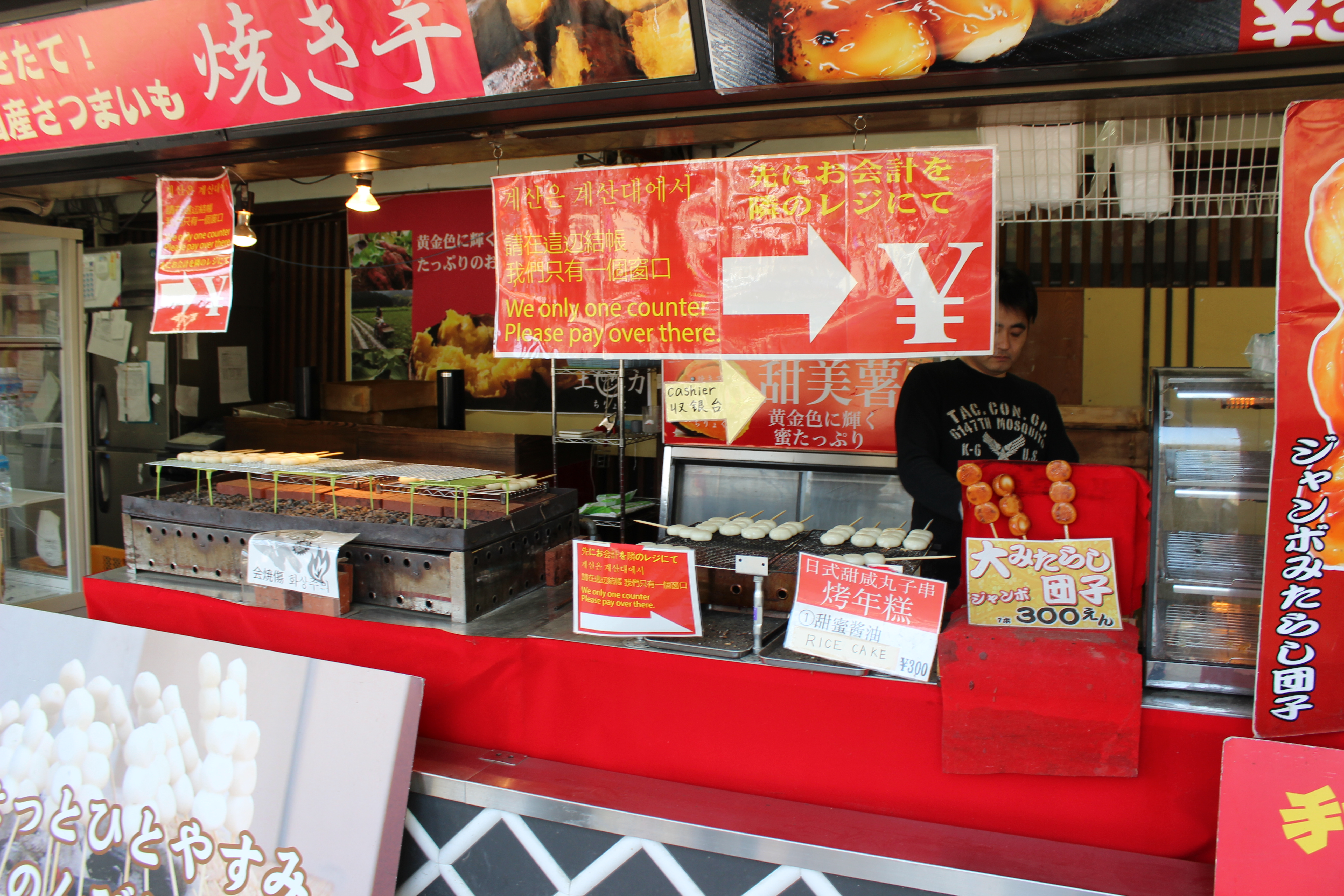 After we'd taken many'a picture of the castle and it's surroundings (including an array of adorable dogs), we started making our way to Nipponbashi DenDen town!
It's basically Osaka's very own Akihabara, there were soooo many cool shops! There are too many individual shops to put into the post, so here's a photo of our favourite street: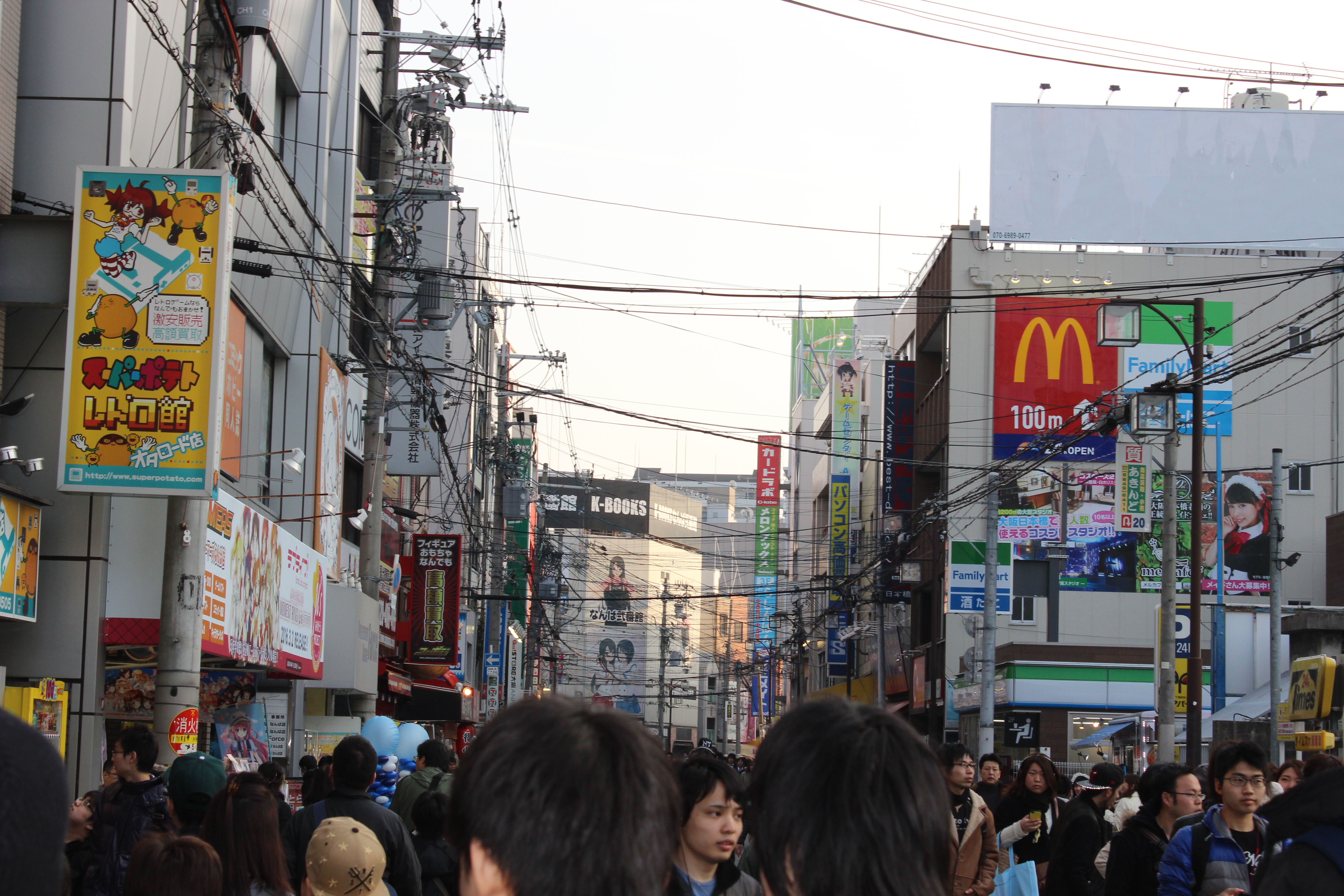 While we were looking around we also found an arcade.. I swear I could smell them!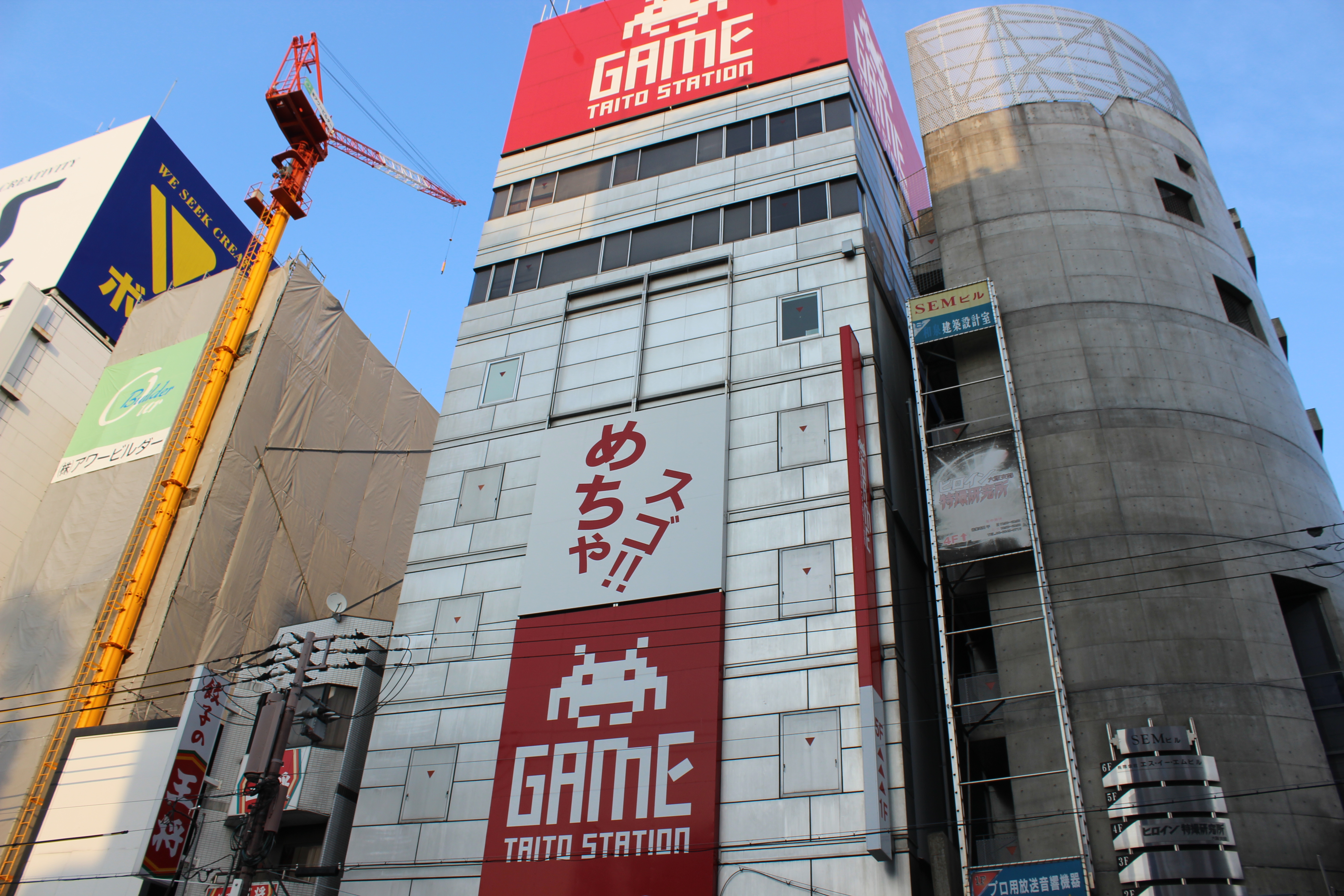 ---
Day 3
We went to Arashiyama to go to the Itawayama Monkey Park! So we walked through all of Arashiyama picking out all the places we wanted to go once we'd seen the monkeys.
The monkey park was actually on top of a pretty big hill, it was like a 15 minute walk from the base to the top! Thankfully it had lots of monkey trivia on the way, as well as a park very near the top for kids to play.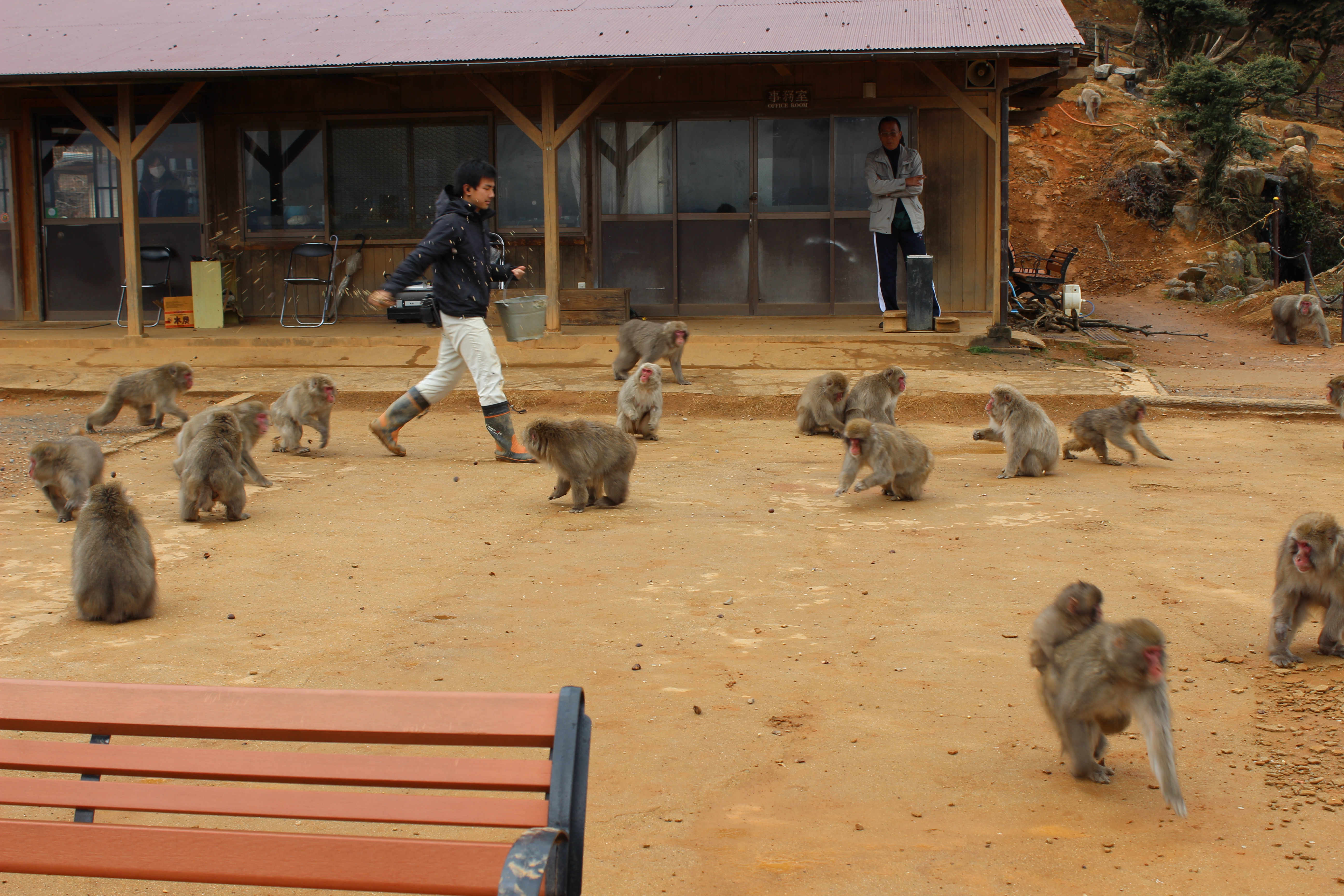 When we got to the top we found all of the monkeys's getting fed, so we went straight into that shack you can see in the background and bought some monkey feed!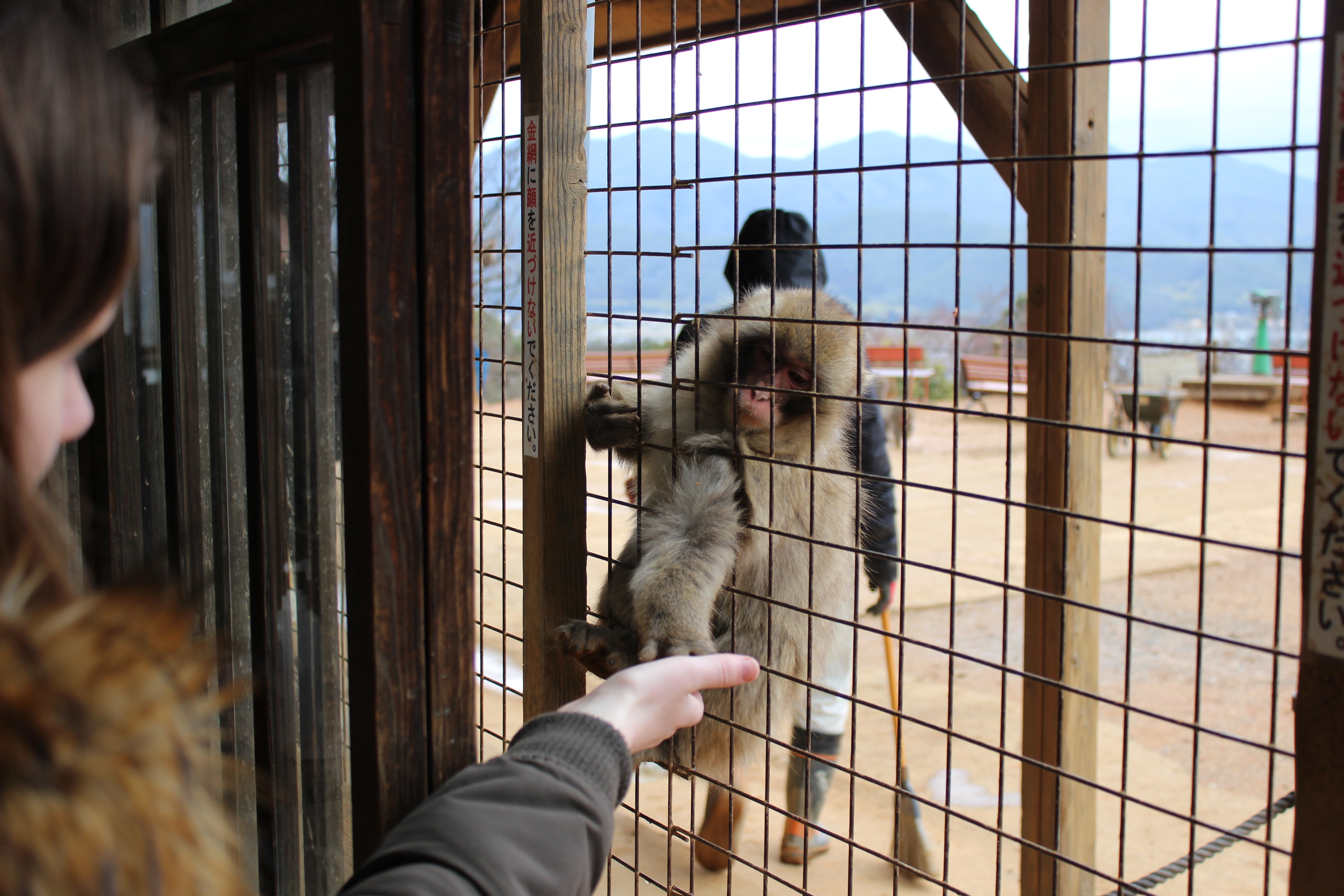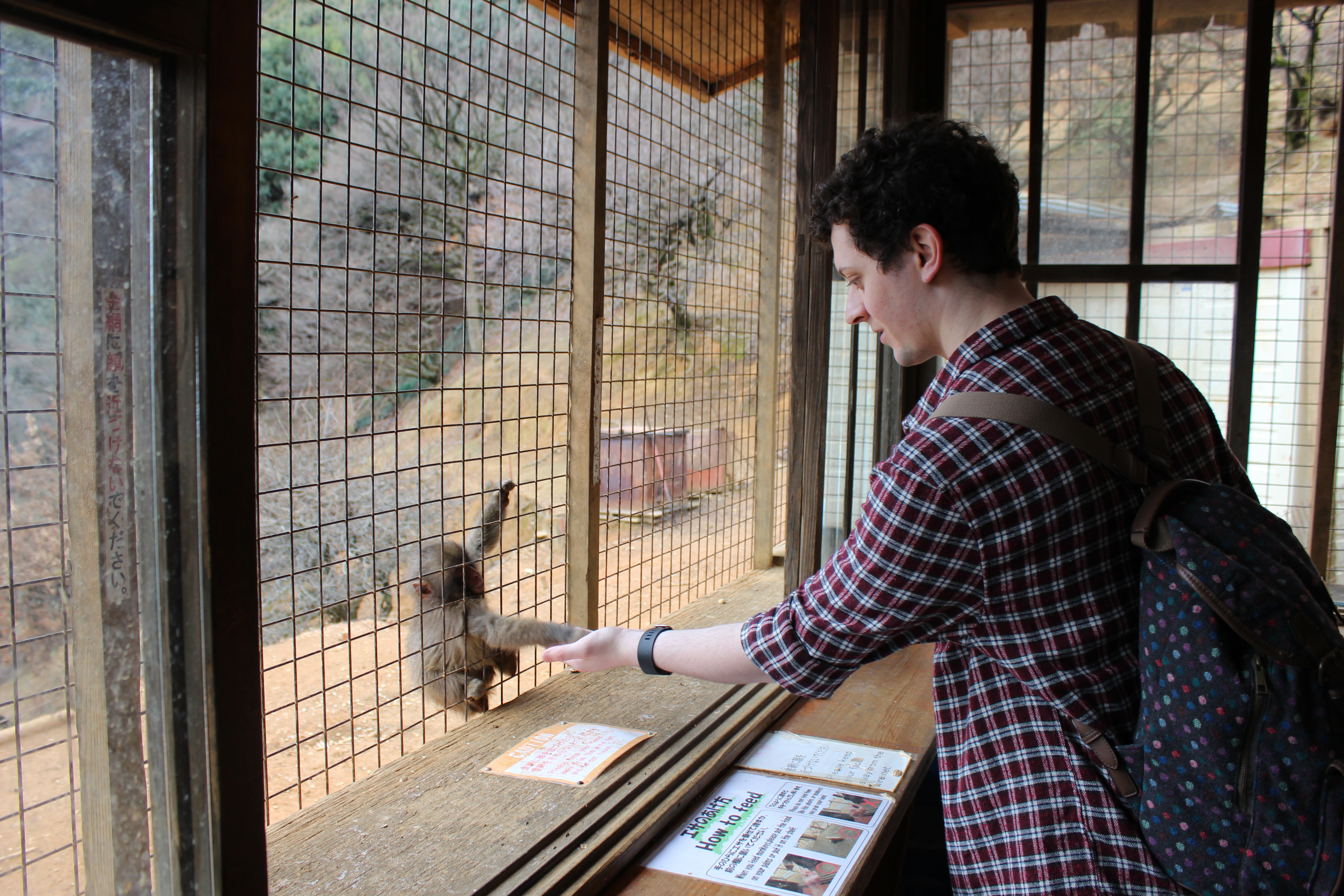 We loved the monkeys.
So we went back down the hill and got back into Arashiyama to have a look round the shops! We found lots of nice places to get food but decided to wait a while. We had a look in a tourist shop and bought many many things!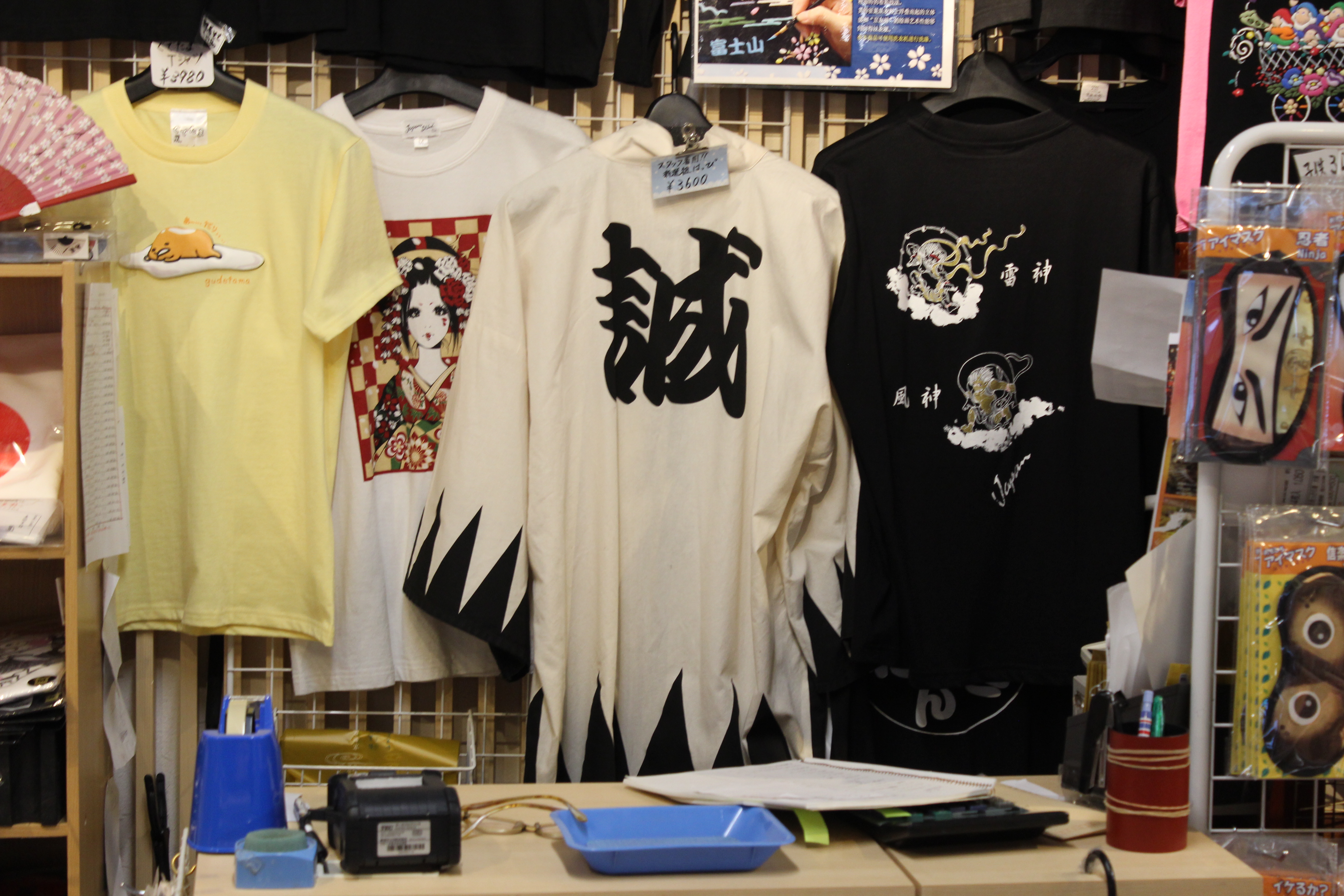 After filling up our bags with some sweeties and other goodies, we went to the temple, prayed and took many photos!
After looking around the temple for an hour or so, we got some crocquets from a shop (and dayum they were good!), we went back to our Hostel to have a drink and sleep!
---
Day 4
Today we went to Nara and on the way.. We stopped at the shop owned by one of my favourite animation studios, the KyoAni shop!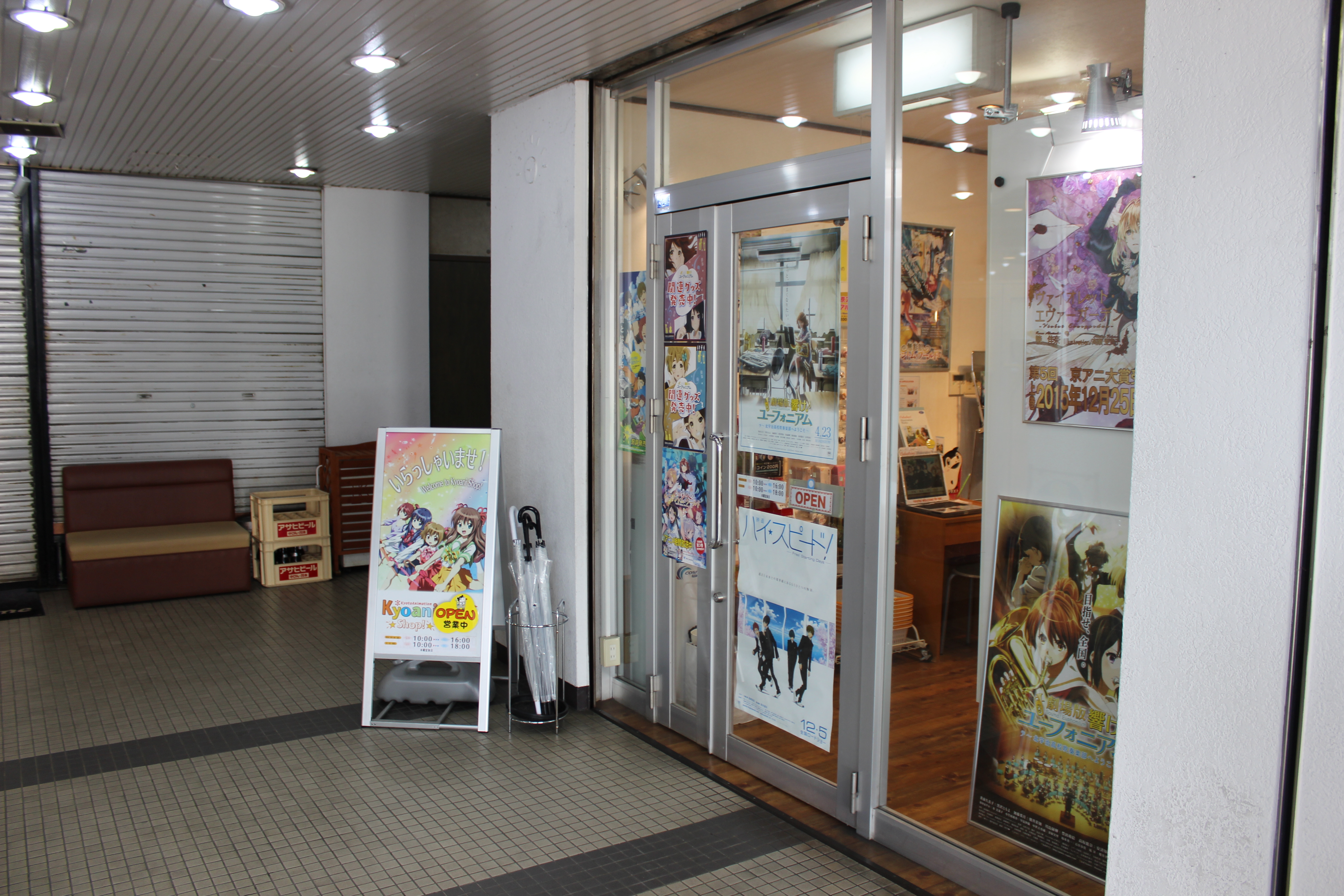 Unfortunately most of the merch they were selling was for Free! - Iwatobi Swim Club, which is an anime about an all-boys swimming team.. Not quite my cup of tea!
So after getting a few badges and stuff for some anime I liked, we got back on the train to Nara!
We started off on the way to the Nara National Park, we found an arcade on the way and we popped in to just have a little look.. I won us some sweeties for while we were in the park! Just before getting to the Park (literally across the road), we found a chap selling deer crackers. Sarah wanted to feed the animals again, she soon regretted her decision: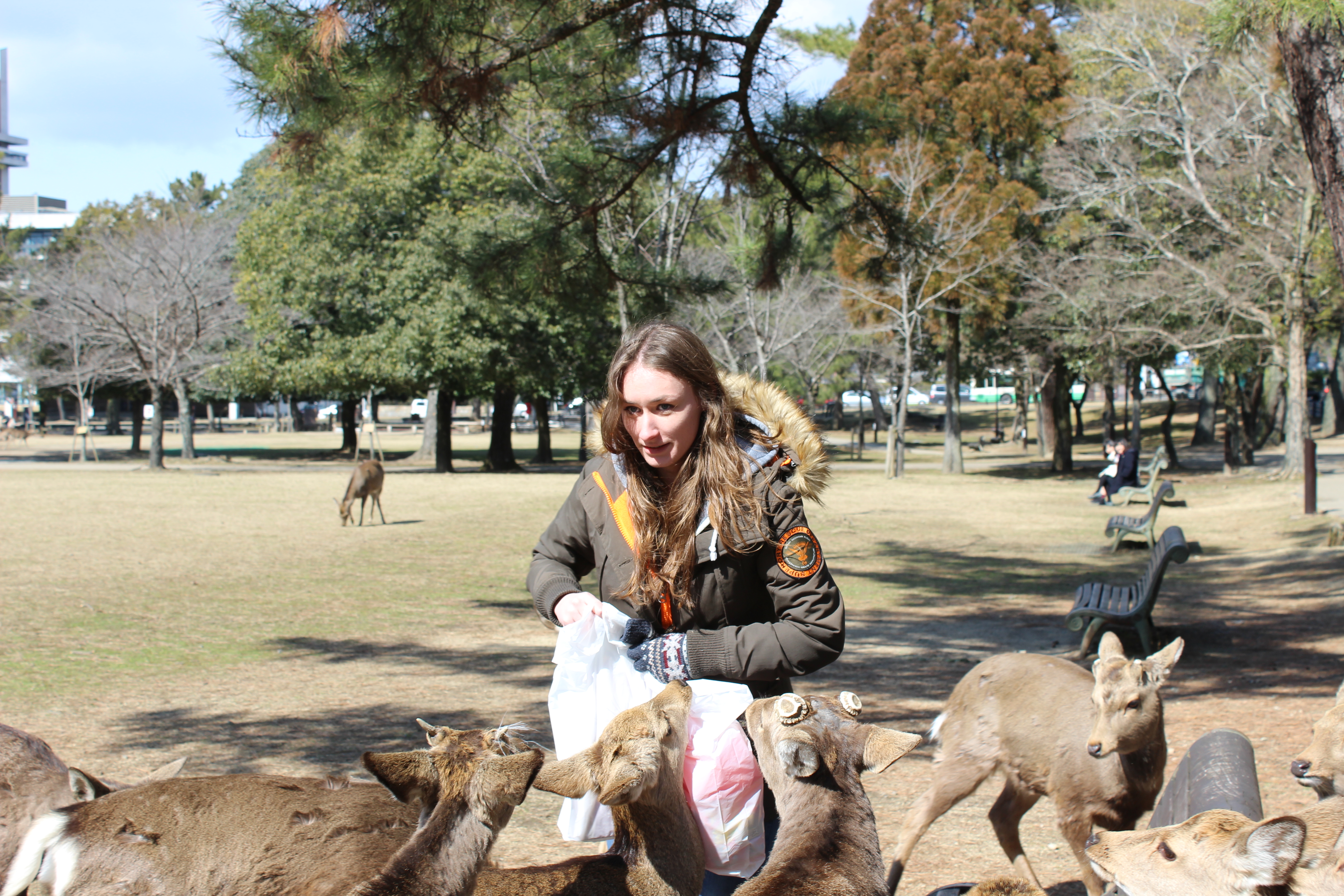 We fed them about 5 packs of crackers and then finally moved across the road to get to the Nara deer park!
We made a few friends while walking through the park, including one that was particularly photogenic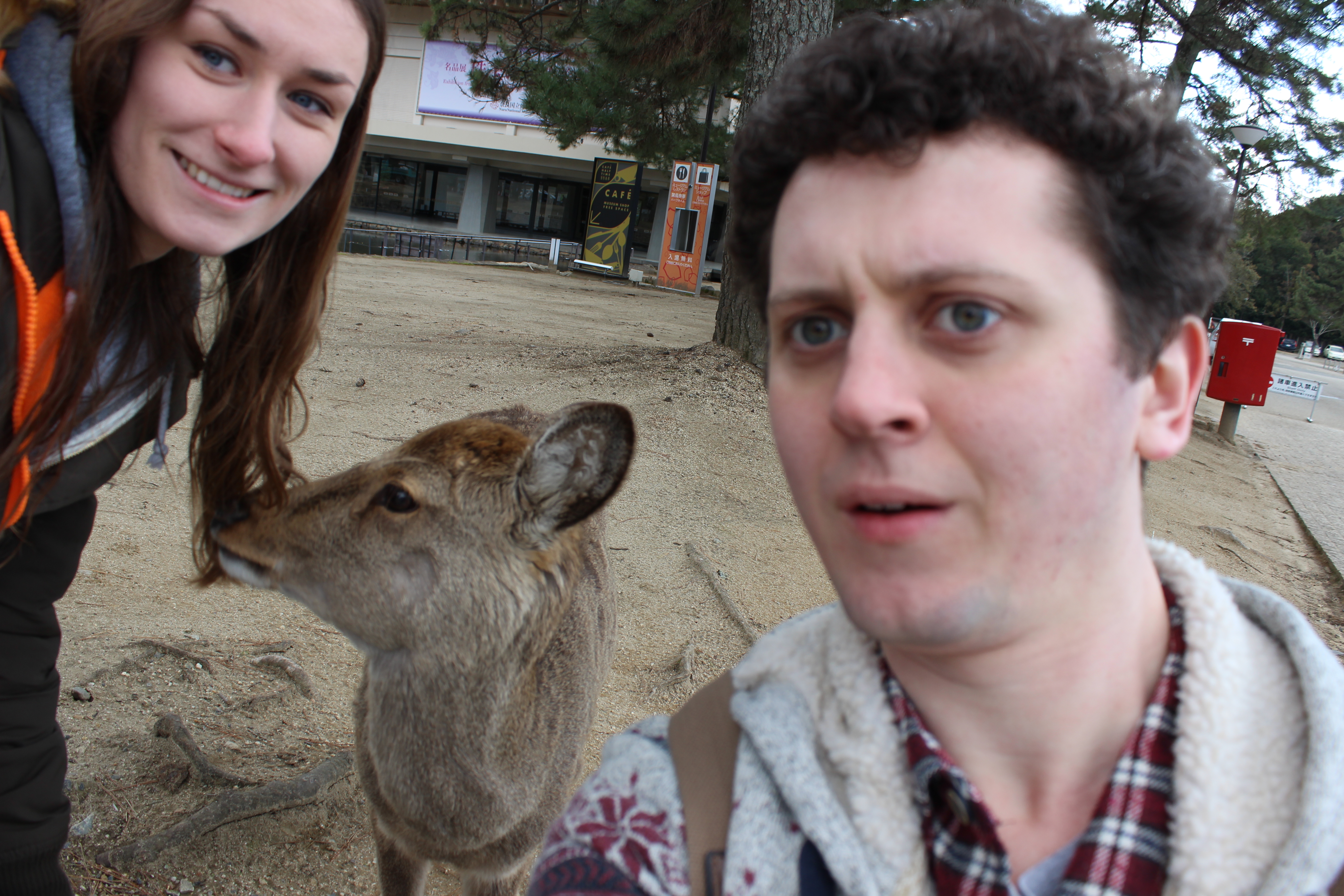 We then went through the museum, then to two different temples near the museum and then to Naramachi! Which is the old mercantile buildings from the Edo Period (1603-1867). There were so many lovely old buildings that were now used as cafés and local shops.
By this time it was 5pm or so and we decided to go back to the hostel and go out for dinner. We went to a nice pizza place just along the road from our hostel towards 7-11, it was only ¥500 for a pizza!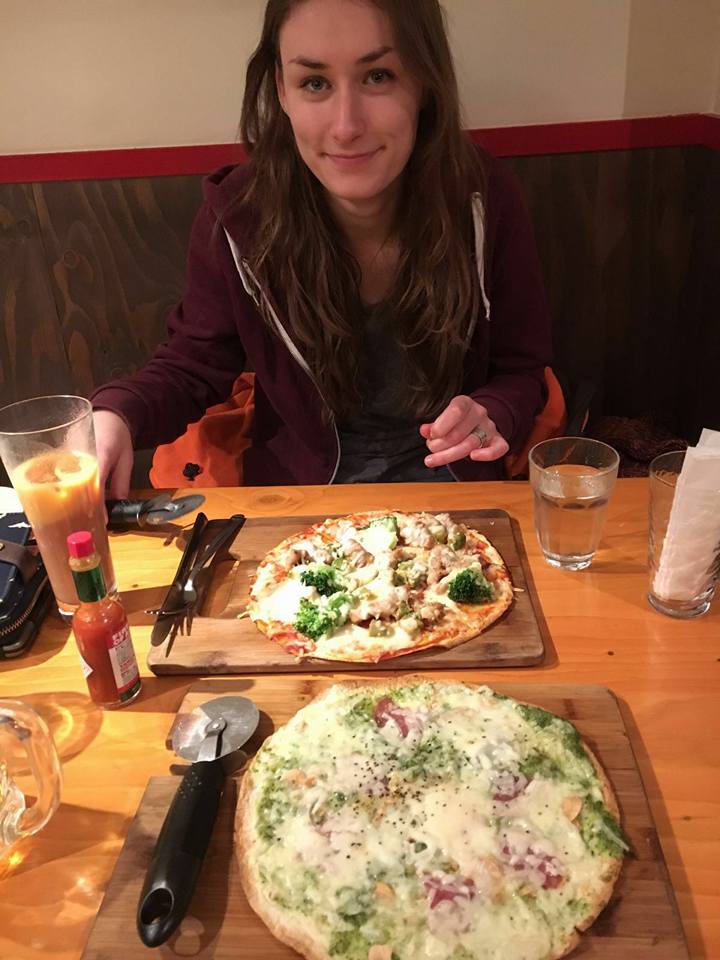 ---
That's the end of this post now! I'm so sorry that there were no posts for so long, the past two weeks have been super duper busy with work and Sarah being back from Germany for a week, I also failed to sort out all the videos we took in Japan into a video!
I'll try to get that video done by the end of June so I can do the last Japan post. So I'll be back soon, with regular posts again! See you all soon.